Talbingo Activities
Public boat ramp at Talbingo Lake / Dam.
Blowering Dam.
Use Talbingo as a base to visit the the Snowy Mouintains.
Bird watching (see our list of local birds here).
Fishing - troll, fly fish or bait.
Bike Riding in the state forest.
Bush Walking (see information below under bush walking tracks).
Kayaking.
4WD driving.
wild horses 20 min drive away.
Snow skiing at Selwyn snowfields - Visit the local Talbingo Snow Sports Hire Centre www.goplayoutside.com.au
bush walk to huts or other points of interest  (see below).
Talbingo History - the old talbingo hotel is now underwater!
Snowy Mountains Hydro Scheme (see information below).  Tours through T3 Power Station are onhold while the station is undergoing refurbishment.
Visit Yarrangobilly caves (see information below).
Water ski on Talbingo dam.
Swimming – Talbingo and Blowering dams, Jounama creek.
Golf – country club
Tennis – country club
Tour the snowy mountains on your own motor bike.
Visit Cabramurra – the highest town in Australia (see Cabramurra information section below).
Visit Buddong Falls.
Visit Coolamine homestead and Currango homestead.
Kayak on Talbingo dam and Tumut river.
Attend church, Australia's first Interdenominational Church.
Visit the library and see the Miles Franklin display.
View historical signage along Murray Jackson Drive.
While in Talbingo, take the opportunity to experience Buddong Falls, Yarrangobilly Caves, Historic Kiandra, Huts and Homesteads of the pioneers and Australia's highest Township Cabramurra, all are within easy reach of this ideal location.

Please ask at our office for walking track brochures and advice.  Walks and destinations for walks include:
Goat Hill walk
Mills Creek falls
Buddong Falls
Landers Falls
Hume hovel walking track access (see below)
Talbingo fire tower
Vicory hut
Jounama walk
Old mountain hwy walk
Lobs Hole Ravine Road
Snowy Mountains Scheme - www.snowyhydro.com.au or call 1800 623 776
The snowy mountains hydro-electric scheme is an intrinsic part of Australia's cultural heritage, was recognised as a civil engineering wonder of the modern world and is an icon of Australian engineering and social achievement.  The scheme is made up of seven major power stations (two underground), 16 major dams, 80 kilometres of aqueducts, 145 kilometres of tunnels, a large pumping station and has a total generating capacity of 3800 megawatts.

Cabramurra
Australia's highest town, with an altitude of 1488m ASL.  Cabramurra is home to a number of Snowy Hydro workers and their families, the public are welcome to visit but no overnight accommodation is available.

Hume & Hovell Walking Track
The walking track is fully signposted and provides opportunities for numerous day walks, weekend walks, or a total walk of about 24 days.  There are walks of all lengths, so we recommend you pick up a brochure from reception or contact the Department of Lands on (02) 6937 2700 to order a Hume & Hovell Walking Track discovery kit.
Yarrangobilly Caves
These caves are located within Kosciuszko National Park, 6.5km off the snowy mountains highway, 77km from Tumut and 109km from Cooma.  These caves are open for regular guided and self guided tours daily.  Closed Christmas day.  There are several caves, the south glory cave, the jersey cave and the Jillabenan cave.  A thermal pool is also available to swim in, at a constant 27 degrees celsius.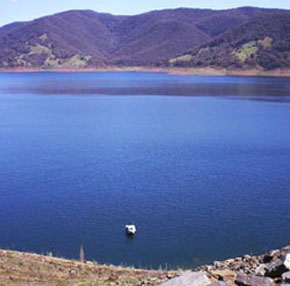 Fishing on Talbingo or Blowering Dam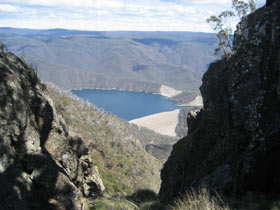 Walk up to the Fire Tower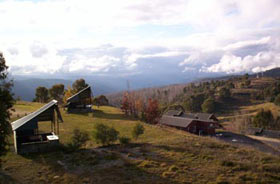 Cabramurra - Highest Town in Australia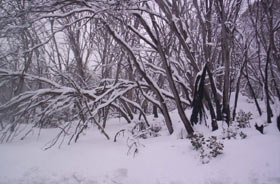 The Snowy Mountains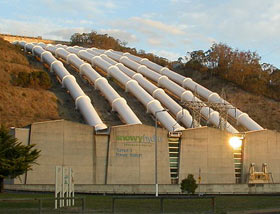 Snowy Mountains Hydro Electric Scheme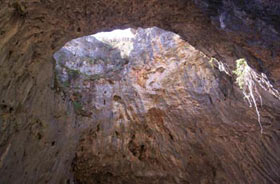 Yarrangobilly Caves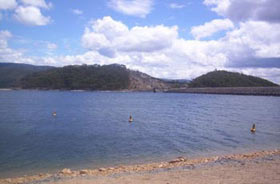 Boating on Talbingo Dam